June 4, 2012

First 4K Movie Released For Download




Recent News

November 26, 2014
November 26, 2014
November 25, 2014
November 25, 2014
November 25, 2014
November 25, 2014
November 24, 2014
November 24, 2014
November 24, 2014


http://vimeo.com/42785517

"TimeScapes" just came out. It's the first movie to be released in 4K! The cineform 4K version is 140GB and is delivered to you on a hard drive.

Or to put it purely in terms of vertical resolution, this is offered in:


2304p - 4K

1440p

1080p - Blu-Ray

720p

480p - DVD


Essentially, what he's done here is allowed the public to purchase the file/disk that would normally be sent to a movie theater with digital projectors.







Subscribe to our RSS feed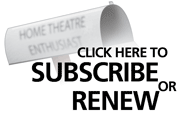 Reason #34 Why Readers Love Widescreen Review:
I was always told to seek the superlative, and where home entertainment is concerned, WSR makes sure that my reach always exceeds my grasp. Fortunately, in this case, it's a good thing. I can count on WSR to always go beyond what every other magazine in the industry can provide. It has inspired me to explore the concepts, both technical and subjective, to the extent that I even feel smarter about home entertainment technology. Hardware and software are both dealt with in an informative and engaging way, so the value of the magazine surpasses its modest price. WSR has been a great inspiration for my wishes and dreams. I wish I could afford the ultra wares I see covered in the magazine. Nevertheless, I am wiser because I have gained a sense of judgment through reading WSR. (I must admit to having a bit of common sense, though, since I have been using Monster Cable products for over 10 years!) I hope WSR will continue to ignite the interest in its audience as it has up to now.
Name Unknown