June 4, 2012

First 4K Movie Released For Download




Recent News

August 14, 2014
August 13, 2014
August 13, 2014
August 12, 2014
August 12, 2014
August 7, 2014
August 7, 2014
August 6, 2014
August 5, 2014


http://vimeo.com/42785517

"TimeScapes" just came out. It's the first movie to be released in 4K! The cineform 4K version is 140GB and is delivered to you on a hard drive.

Or to put it purely in terms of vertical resolution, this is offered in:


2304p - 4K

1440p

1080p - Blu-Ray

720p

480p - DVD


Essentially, what he's done here is allowed the public to purchase the file/disk that would normally be sent to a movie theater with digital projectors.







Subscribe to our RSS feed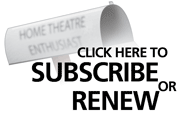 Reason #91 Why Readers Love Widescreen Review:
I need a magazine at dose and not a sugar coat approach to reviews. I need a magazine that is not bias or a sell-out. And Widescreen Review is my winner. I am a 23-year old audiophile that likes to stay in the know and up to date on whatís new and whatís hot. I can't do that with a magazine that says every single review is a good one, like other mags out there that will be left name-less. The Sound And Vision of a product is important, but donít sell-out to make a buck, and those people out there are the ones who think that Gateway makes a good plasma. Keep up the good work. I love the mag.
Joseph Caramello