Richard Hardesty: A Memorial
I have known Dick Hardesty since the days when he owned Havens and Hardesty Audio. He was a great teacher and diligent writer.
I asked Dick to join Widescreen Review as a Contributing Editor and our Technical Audio Editor. His contributions were always leading-edge articles and reviews. Dick was an inspiring individual during his years with us. We called him Dr. Boom. His greatest contribution to Widescreen Review was The Essential Subwoofer Buyer's Guide, which is still in demand to this day.
I was saddened when he left us to pursue his own digital publishing. Dick's service and friendship will always be remembered and cherished. Rest in peace.
Gary Reber
We would like to present Richard Hardesty's seminal WSR series—Subwoofers: Presenting The Fundamentals—for all to remember
Download Subwoofers: Presenting The Fundamentals
The Absolute Sound's tribute page
Vandersteen Audio's Rememberance
New For Subscribers

Issue 188 Features:


• CEA Updates Ultra HD Display Characteristics; DEG, CEA, The Recording Academy® and Major Labels Reach Agreement on Definition for High Resolution Audio; A Study In Spatial Surround Dimensionality Of 25 Over-Ear and On-Ear Headphones
• Optoma HD91 LED Projector
• Samsung BD-H6500 4K Up-Converting 3D Blu-ray Disc Player
• Audience ClairAudient The ONE and 1+1 Loudspeakers
• On Screen With Wilfried Van Baelen Auro Technologies
• Reinventing Home Theatre 10 Years After The Arrival Of Widescreen Home Cinema
• Input From Others On UHD
• 13 Blu-ray Disc Reviews and more!
Check them out in this month's Attractions...


WSR Blogs

The Editor's Couch


December 3, 2013


Upcoming 4k Televisions Could Be Bigger Than 3D


December 20, 2012


The Future (Exclusive Article From Issue 173 in January 2013!)


September 18, 2012


Connect to opportunity – Register now.


August 23, 2012


It's Your Last Chance for FREE Registration for the 2013 CES!


January 18, 2012


How CE Manufacturers Are Killing Brick And Mortar Stores And Undermining Their Own Future


January 18, 2012


Democratic Capitalism And Binary Economics: Solutions For A Troubled Nation And Economy


September 1, 2011


Blu-ray Disc Release Schedule For March/April 2012


More news from the Editor's Couch...


Coming Soon To A Home Theatre Near You


September 18, 2013


The Sharp AQUOS® 4K Ultra HD LED TV Now Available


August 22, 2013


MOZAEX RELEASES NEW APPLE IOS APP FOR MEDIA SERVER


August 22, 2013


Severtson Screens Debuts SAT-4K Acoustically Transparent Projection Screens at 2013 CEDIA Expo


August 21, 2013


Bryston Unveils Model A Loudspeaker Series


August 7, 2013


BenQ Introduces World's First Wireless Projector With Built-in 5-GHz WHDI™ Technology


August 7, 2013


VIZIO Unveils Three New Home Theater Sound Bars


August 5, 2013


VIZIO Unveils Next Generation Smart TV Platform





See What's In
The New Issue Of WSR
or check out all of our
back issues

Subscribe to our RSS feed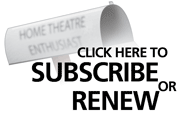 Reason #109 Why Readers Love Widescreen Review:
I think that the most important aspect of a technical publication is to be strict with the choice of content and contributing Editors. I feel well-informed by WSR, and the reading of my monthly issue helps me to appreciate the home theatre experience, especially with DVD reviews and the new equipment section. Widescreen Review is for everyone interested in a good home theatre movie experience!
Mathieu Forget