New For Subscribers
Issue 192 Features:
Editor's Couch: Consumer Electronics Show 2015
Equipment Reviews
• SVS Prime Seven-Channel Loudspeaker System • Onkyo TX-NR3030 Audio/Video Receiver
Science Of Imaging
• The Future's So Bright We Gotta Wear Shades: How Lasers Are Used In Projection Displays
Also
• Celebrating The 30th Anniversary Of Digital Sound In Theatres: On Screen With Sound Engineer John F. Allen
• Audiophile Headphones Part V
• UHD Alliance
• One Installer's Opinion: Good News, Bad News, Getting Height Right... And Other Matters
See What's In
The New Issue Of WSR
or check out all of our
back issues

Subscribe to our RSS feed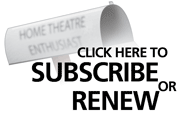 Reason #45 Why Readers Love Widescreen Review:
I read WSR because I enjoy configuring my home entertainment system myself. I don't have enough disposable income to buy all new components and hire an installer to set it all up. So, I have relied on WSR to guide me in almost all aspects of the (continual) upgrade process. I have always stayed glued to the reviews so that I can choose where my dollar is going to affect the greatest impact in my system. When you have a tight budget to work with, even the smallest purchase decisions make a difference.
Todd Lawrence