January 21, 2009

Bowers & Wilkins Debuts XT Line's New Cornerstone

Super-Slim Aluminum Tower Re-refined

[The following is a release from Bowers & Wilkins]


Recent News

October 18, 2014
October 17, 2014
October 17, 2014
October 17, 2014
October 17, 2014
October 16, 2014
October 15, 2014
October 13, 2014
October 7, 2014


Since its unveiling a couple of years back, Bowers & Wilkins stunningly slim XT Series loudspeakers have proven an ongoing hit among consumers as sensitive to style as to sound. Nevertheless, at the British company acknowledged worldwide as a leader in high-performance loudspeakers, continuous refinement and ongoing development are a way of life, so the XT Series now receives an updated cornerstone model.

B&W's new XT 8 supersedes the XT 4, with which it is superficially identical: a slim, smooth, contemporarily styled mid-sized tower speaker with the unmistakable B&W Nautilus tweeter "pod" at the top. Under the gleaming skin, however, the XT 8 is substantially refined. A re-engineered midrange utilizes B&W's proprietary FST (fixed-suspension transducer) technology to deliver demonstrably (and measurably) greater mid-frequency accuracy, thanks to FST's near eradication of the standing-wave resonances that trouble nearly all conventional cone drivers. A crossover network realigned to optimize the FST mid's abilities completes the picture, contributing to a sonic payoff of clearly audible gains in transparency, imaging precision and depth, and articulation of subtle sonic details.

The XT 8 retains the Nautilus tweeter of it predecessor. This metal-dome, high-frequency driver combines through its newly refined low-order crossover to take full advantage of the XT 8's improved FST midrange, while its Nautilus tapered-tube enclosure virtually eliminates the back-side internal resonances that subtly limit the resolution of conventional high-frequency designs. Additionally, B&W's smoothly tapered "top-pod" location helps prevent acoustic diffractions that induce time-domain "smearing" effects. In short, this extensively proven layout contributes the XT 8's extremely smooth yet extended, arrestingly transparent top end and three-dimensional sense of space.

Also retained from the XT 4 are the new model's twin 5-inch woofers. These utilize B&W's trademark paper/Kevlar™ composite to ensure quick, clear bass and impressive low-frequency transient power, with unexpected bottom-octave extension (34 Hz) from so dramatically slim a speaker. The XT 8's available finish options are similarly unchanged: Satin brushed aluminum or gloss black aluminum exteriors of superb quality are set off by slim black grilles to effect a quiet elegance.

B&W's new XT 8 will become available in the first quarter of 2009, at a manufacturer's suggested price of $3,500/pair.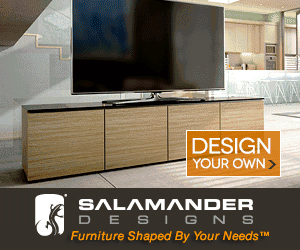 Subscribe to our RSS feed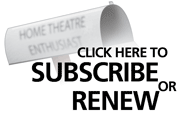 Reason #11 Why Readers Love Widescreen Review:
It's really quite simple; the main reason that I read Widescreen Review is because of the overall quality of content and the fact that I can rely upon the writers to provide an open-minded presentation of cutting edge technology as it unfolds in "real time." I read Widescreen Review to stay informed, entertained, and to learn valuable facts that have the added benefit of saving me money through empowering me to make wise decisions regarding the features and capabilities of the equipment I choose to purchase. While my home theatre is modest, I admire, and am inspired by Widescreen Review's dedication to speaking of and working towards a golden standard for the reproduction of video in the home. I may not be able to afford the very top-of-the-line components, yet with proper information I have found that there is no reason to settle for anything less than the best than I can afford. I choose to read Widescreen Review because of the clarity of its purpose, as well as the consistent delivery of its mission and message. I enjoy reading it every month, it saves me money, and it makes me a more informed consumer with every passing issue. You really say it all in your title "The Essential Home Theatre Resource" and deliver on your promise with intelligent passion inside each issue. Every consumer responds to good value, and that's what I find in the combination of the information I learn, the money I save, and the manner in which I am entertained rather than sold to. Thanks for the fine job that you all do, I appreciate it and so do those I've shared your publication with.
Michael Northern