January 21, 2009

Bowers & Wilkins Debuts XT Line's New Cornerstone

Super-Slim Aluminum Tower Re-refined

[The following is a release from Bowers & Wilkins]


Recent News

April 23, 2015
April 22, 2015
April 22, 2015
April 22, 2015
April 22, 2015
April 22, 2015
April 20, 2015
April 20, 2015
April 20, 2015


Since its unveiling a couple of years back, Bowers & Wilkins stunningly slim XT Series loudspeakers have proven an ongoing hit among consumers as sensitive to style as to sound. Nevertheless, at the British company acknowledged worldwide as a leader in high-performance loudspeakers, continuous refinement and ongoing development are a way of life, so the XT Series now receives an updated cornerstone model.

B&W's new XT 8 supersedes the XT 4, with which it is superficially identical: a slim, smooth, contemporarily styled mid-sized tower speaker with the unmistakable B&W Nautilus tweeter "pod" at the top. Under the gleaming skin, however, the XT 8 is substantially refined. A re-engineered midrange utilizes B&W's proprietary FST (fixed-suspension transducer) technology to deliver demonstrably (and measurably) greater mid-frequency accuracy, thanks to FST's near eradication of the standing-wave resonances that trouble nearly all conventional cone drivers. A crossover network realigned to optimize the FST mid's abilities completes the picture, contributing to a sonic payoff of clearly audible gains in transparency, imaging precision and depth, and articulation of subtle sonic details.

The XT 8 retains the Nautilus tweeter of it predecessor. This metal-dome, high-frequency driver combines through its newly refined low-order crossover to take full advantage of the XT 8's improved FST midrange, while its Nautilus tapered-tube enclosure virtually eliminates the back-side internal resonances that subtly limit the resolution of conventional high-frequency designs. Additionally, B&W's smoothly tapered "top-pod" location helps prevent acoustic diffractions that induce time-domain "smearing" effects. In short, this extensively proven layout contributes the XT 8's extremely smooth yet extended, arrestingly transparent top end and three-dimensional sense of space.

Also retained from the XT 4 are the new model's twin 5-inch woofers. These utilize B&W's trademark paper/Kevlarô composite to ensure quick, clear bass and impressive low-frequency transient power, with unexpected bottom-octave extension (34 Hz) from so dramatically slim a speaker. The XT 8's available finish options are similarly unchanged: Satin brushed aluminum or gloss black aluminum exteriors of superb quality are set off by slim black grilles to effect a quiet elegance.

B&W's new XT 8 will become available in the first quarter of 2009, at a manufacturer's suggested price of $3,500/pair.







Subscribe to our RSS feed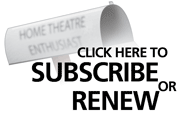 Reason #55 Why Readers Love Widescreen Review:
I read Widescreen Review because it has had a consistent editorial perspective since its inception: a no-compromise approach to making home theatre the best that it can be. I have read the magazine cover to cover since Issue 2. Despite staff and reviewer changes over the years, thanks to Gary's leadership this perspective has never changed. As new technologies are introduced, Widescreen Review always provides in-depth analyses of not just the technology itself, but the political and industry forces that may be forcing compromises in its development. You have always sounded the clarion call to stop compression madness or any other madness that may force us to accept a home theatre experience that falls short of what it could be. Thank you!
Steve Bjork