Basic Information on new release titles is posted as soon as titles are announced. Once reviewed, additional data is added to the database.
WSR Detailed Disc Review
North By Northwest

50th Anniversary Edition


Genre:

Thriller

Reviewed In

Issue 144 (November 2009)

Of Widescreen Review®



Stars:


Cary Grant, Eva Marie Saint, James Mason, Jessie Royce Landis, Leo G. Carroll & Martin Landau
WSR Review Scores

WSR Picture Rating:

4.5

DD Sound Rating:

2.5

DD Plus Sound Rating:

NR

DD True HD Sound Rating:

4

DTS Rating:

NR

DTS-HD Rating:

NR

DTS-HD Master Audio Rating:

NR

PCM Audio Rating:

NR

WSR Score:

4

Download WSR Review
Reference Systems

Critics' Composite Score:

NA

Special Features
Special features include two new documentaries: The Master's Touch: Hitchcock's Signature Style consisting of interviews, clips, and behind-the-scenes footage (SD 57:32) and North By Northwest: One For The Ages consisting of interviews with top Directors Guillermo del Toro, William Friedkin, Curtis Hanson, and Francis Lawrence, in which they share their interpretations on the film's importance and its influence on their own work; the previously released behind-the-scenes documentary Destination Hitchcock: The Making Of North By Northwest by Peter Fitzgerald (SD 39:27); the 2003 Gary Grant: A Class Apart documentary (SD 87:12); commentary by Screenwriter Ernest Lehman; a production stills gallery; a music-only track; two theatrical trailers and a TV spot; plus a 44-page booklet containing photos, film facts, and "insider information."

Disc General Information

| | |
| --- | --- |
| (Studio/Distributor): | Warner Home Video |
| (Catalog Number): | 1000092477 |
| (MPAA Rating): | Not Rated |
| (Rating Reason): | |
| (Retail Price): | $34.99 |
| (Disc Type): | Single Side, Dual Layer (BD-50) |
| (Widescreen Edition): | Yes |
| (Full Screen Edition): | No |
| (Running Time In Minutes): | 136 |
| (Color Type): | Color |
| (Chaptered/Scene Access): | Yes |
| (Closed Captioned): | Yes |
| (Regional Coding): | Not Indicated |
| (Theatrical Year): | 1959 |
| (Theatrical Release): | Yes |
| (Direct-To-Video Release): | No |
| (Disc Release Date): | 11/03/09 |
| (THX® Digitally Mastered): | No |
WSR Narrative Review

Story Synopsis:
Alfred Hitchcock's classic suspense thriller, North By Northwest, was originally released in 1959 by MGM and stars Cary Grant as Manhattan Advertising Exec Roger Thornhill, who, through a chance happening, is mistaken for another man, abducted, framed for murder, and chased, becoming dangerously involved in the world of international espionage. Eva Marie Saint plays the sultry and sexy heroine Eve Kendall. The movie includes two of Hitchcock򢀙s most memorable scenes: the crop-dusting airplane after Thornhill, and the dizzying experience on and off the edges of Mount Rushmore National Monument in South Dakota. (Gary Reber)

Picture:
The superb cinematic 1080p VC-1 picture quality is the result of a meticulous restoration and remastering with Warner Bros. Motion Picture Imaging scanning the original Technicolor₮ VistaVision₮ production elements in 8K resolution. The extraordinary depth of field and clarity is striking. As with the previously reviewed anamorphically enhanced 1.78:1 DVD in Issue 42, colors are quite rich, though, the picture is dated. Blacks are deep and solid, and shadow delineation is nicely revealing. Fleshtones can appear a tad on the orange side at times, but otherwise exhibit nice balance with the overall color scheme. Images are sharp and exhibit excellent detail in facial features and object textures. The resolution is revealing of the production techniques employed in years past, at times exhibiting a disconnect with the backgrounds, such as in moving cars and trains. The overall appearance is smooth and solid with no noticeable artifacts. This 50-year-old VistaVision picture is very solid, with vibrant color and impressive resolution, making this the definitive release of this classic. (Gary Reber)

Sound:
The Dolby₮ TrueHD 5.1-channel soundtrack has been repurposed from the original Westrex Recording System monaural soundtrack. The previously reviewed DVD featured the same impressive remastering effort but was encoded in Dolby Digital. The lossless Dolby TrueHD encoding delivers a welcome and dramatic dimensional enhancement to the original monaural audio and much improved fidelity. The Dolby Digital 1.0 soundtrack sounds compressed and very dated. The incorporation of Bernard Herrmann's richly textured music score, and the subsequent, often aggressive, spatial processing results in an engaging listening experience. The music recording quality overall is outstanding. The vintage audio, though veiled in fidelity, compared to modern recording quality, is essentially devoid of background noise, as well as other artifacts. Dialogue is production sound with subtle leakage into the left and right channels, which enhances the spatial integration, though, not consistently. The surrounds are generally subtle throughout, except for the presence of the music and the famous bi-plane scene, in which the flyovers appropriately energize the soundfield. The subsequent tanker explosions provide some rare pulses of deep bass via the .1 LFE, though, during the music sequences the low-frequency foundation is solid. This is a wonderful period soundtrack that has been pleasantly enhanced. (Gary Reber)

This Disc Contains The Following WSR-Rated Superb Qualities:
Subscribe Now!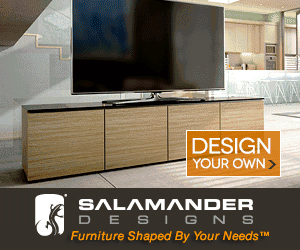 Subscribe to our RSS feed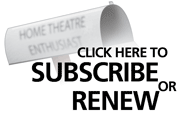 Reason #24 Why Readers Love Widescreen Review:
I love all the DVD and D-VHS reviews! I also love all the letters from people like me telling the truth about everything. Also, I canít get enough of hi-def info on everything. I can't wait for the next issue! Keep up the good work!
Doug Dickens