BLU-RAY REVIEW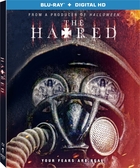 Hatred, The
Basic Information on new release titles is posted as soon as titles are announced. Once reviewed, additional data is added to the database.
(Studio/Distributor):
Lionsgate Home Entertainment
(Catalog Number):
52744
(MPAA Rating):
R
(Rating Reason):
Some violence/horror images.
(Retail Price):
$$19.99
(Disc Type):
Single Side, Dual Layer (BD-50)
(Widescreen Edition):
Yes
(Full Screen Edition):
(Running Time In Minutes):
94
(Color Type):
Color
(Chaptered/Scene Access):
Yes
(Closed Captioned):
Yes
(Regional Coding):
A
(Theatrical Year):
(Theatrical Release):
(Direct-To-Video Release):
(Disc Release Date):
9/12/2017
(THX® Digitally Mastered):
(Director):
Michael G. Kehoe
(Screenplay/Written By):
(Story):
(Music):
(Director Of Photography):
(Production Designer):
(Visual Effects):
(Costume Designer):
(Editor):
(Supervising Sound Editors):
(Re-Recording Mixers):
(Executive Producers):
(Co-Producers):
(Producers):
(Academy Awards):
(Principal Photography):
(Theatrical Aspect Ratio):
(Measured Disc Aspect Ratio):
(Disc Soundtrack):
Dolby TrueHD 5.1
(Theatrical Sound):
(Theatrical Re-Issue Soundtrack):
(DTS Bit Rate):
(Dolby Digital Bit Rate):
(Additional Languages):
(Subtitles):
Sins from the past return to terrorize the present in The Hatred. When recent college grad Regan (Davenport) goes to a family's house to babysit their daughter for the weekend, she invites her three best gal pals along. What starts as a girls' getaway becomes a journey into hell, as the young women discover the house is haunted by a dark and violent history involving a Nazi (Divoff), his daughter, and an ancient artifact that feeds on fear. (Gary Reber)
Special features include a behind-the-scenes featurette (HD 12:00), upfront previews, and an UltraHD digital copy.
The 2.39:1 1080p AVC picture, reviewed on a VIZIO P6 4K Ultra HD HDR display, unconverted to 2160p with greater resolution and luminance, was digitally sourced from an Arri Alexa camera system. The color palette is strongly saturated throughout. Hues are warm, but fleshtones are a bit unnatural overall and inconsistent. The imagery is clear and pristine. Contrast is generally good with deep blacks and revealing shadow delineation. Bright highlights delivered by an effective lighting design effectively creates dynamic contrasts. Resolution is good, delivering generally sharp imagery. Close-ups are more revealing of detail, though, the young women appear a bit soft. Overall, this is visually an impactful picture, especially delivering an eerie, horrific feeling. (Gary Reber)
The Dolby TrueHD 5.1-channel soundtrack effectively delivers a dynamic presence, especially as the story progresses and during an intense, thunder-driven storm. Surround engagement is particularly heightened during the storm and otherwise delivers directionalized sound effects that heighten the thrills. Deep bass extends to sub-25 Hz in the .1 LFE channel. The music score sounds to be comprised of both acoustic and synthesized and spans the frontal soundstage, extending to the surrounds. Dialogue is consistently intelligible with generally good spatial integration. This is an effective horrific holosonic® soundtrack with plenty of dynamic sound effects and atmospherics that excite. (Gary Reber)