BLU-RAY REVIEW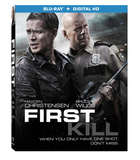 First Kill
Basic Information on new release titles is posted as soon as titles are announced. Once reviewed, additional data is added to the database.
(Studio/Distributor):
Lionsgate Home Entertainment
(Catalog Number):
52478
(MPAA Rating):
R
(Rating Reason):
Violence and language.
(Retail Price):
$$24.99
(Disc Type):
Single Side, Dual Layer (BD-50)
(Widescreen Edition):
Yes
(Full Screen Edition):
(Running Time In Minutes):
102
(Color Type):
Color
(Chaptered/Scene Access):
Yes
(Closed Captioned):
Yes
(Regional Coding):
A
(Theatrical Year):
(Theatrical Release):
Yes
(Direct-To-Video Release):
(Disc Release Date):
9/5/2017
(THX® Digitally Mastered):
(Director):
Steven C. Miller
(Screenplay/Written By):
(Story):
(Music):
(Director Of Photography):
(Production Designer):
(Visual Effects):
(Costume Designer):
(Editor):
(Supervising Sound Editors):
(Re-Recording Mixers):
(Executive Producers):
(Co-Producers):
(Producers):
(Academy Awards):
(Principal Photography):
(Theatrical Aspect Ratio):
(Measured Disc Aspect Ratio):
(Disc Soundtrack):
DTS HD Lossless 5.1
(Theatrical Sound):
(Theatrical Re-Issue Soundtrack):
(DTS Bit Rate):
(Dolby Digital Bit Rate):
(Additional Languages):
(Subtitles):
In First Kill, after witnessing the botched murder attempt of a bank robber by his crew during a father-son hunting trip, Will (Christensen), a successful Wall Street broker, ends up entangled in a web that forces him to evade the police and recover the stolen heist money to save his son, Danny (Ty Shelton). Will takes his family on a vacation to the cabin where he grew up. While Will and Danny are hunting, their trip takes a deadly turn when they witness the murder of a crooked police officer as a bank robbery goes awry. When Danny is taken hostage by the criminals, Will is forced to help them evade the police chief (Willis) investigating the murder and recover the stolen money in exchange for his son's life. (Gary Reber)
Special features include commentary by Director Steven C. Miller, a Behind The Scenes featurette (HD 11:19), six deleted scenes (HD 05:26), extended cast/crew interviews (HD 62:13), a trailer, upfront previews, and an UltraViolet digital copy.
The 2.40:1 1080p AVC picture, reviewed on a Sony Bravia Z9D 4K Ultra HD HDR display, upconverted to 2160p with greater resolution and luminance, was photographed digitally using the Arri Alexa Mini camera system in Panavision®. The color palette is for the most part strongly saturated and exhibits an overall garish yellow-green hue, although close-ups of blood are strongly realistic. Forestry greens are deeply hued as well as other earth hues. A rainy storm scene exhibits a deep-blue cast. Fleshtones are generally natural in appearance. Contrast is decent, but dark scenes disguise detail, and shadow delineation could be more revealing. Some intense lighting, such as on ambulances, are effective to boost contrast. Some interior scenes, which are brightly lit, really look good. Resolution overall is good, especially during close-ups of facial features, hair, clothing, and object texture. Overall, this is a decent presentation that generally looks good. (Gary Reber)
The DTS-HD Master Audio™ 5.1-channel soundtrack is surprisingly deficient given the extensive forest settings and the chase sequences involving different vehicles and gunfire. Instead, surround engagement is far less aggressive than one would expect. The orchestral score extends from the soundstage to the surrounds, providing most of the surround envelopment. Dialogue is consistently intelligible with generally good spatial delineation. (Gary Reber)