BLU-RAY REVIEW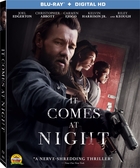 It Comes At Night
Basic Information on new release titles is posted as soon as titles are announced. Once reviewed, additional data is added to the database.
(Studio/Distributor):
Lionsgate Home Entertainment
(Catalog Number):
52682
(MPAA Rating):
R
(Rating Reason):
Violence, disturbing images, and language.
(Retail Price):
$$24.99
(Disc Type):
Single Side, Dual Layer (BD-50)
(Widescreen Edition):
Yes
(Full Screen Edition):
(Running Time In Minutes):
92
(Color Type):
Color
(Chaptered/Scene Access):
Yes
(Closed Captioned):
Yes
(Regional Coding):
A
(Theatrical Year):
(Theatrical Release):
Yes
(Direct-To-Video Release):
(Disc Release Date):
9/12/2017
(THX® Digitally Mastered):
(Director):
Trey Edward Shults
(Screenplay/Written By):
(Story):
(Music):
(Director Of Photography):
(Production Designer):
(Visual Effects):
(Costume Designer):
(Editor):
(Supervising Sound Editors):
(Re-Recording Mixers):
(Executive Producers):
(Co-Producers):
(Producers):
(Academy Awards):
(Principal Photography):
(Theatrical Aspect Ratio):
(Measured Disc Aspect Ratio):
(Disc Soundtrack):
DTS HD Lossless 5.1
(Theatrical Sound):
(Theatrical Re-Issue Soundtrack):
(DTS Bit Rate):
(Dolby Digital Bit Rate):
(Additional Languages):
(Subtitles):
In It Comes At Night, nineteen-year-old Travis (Harrison, Jr.), secure within a desolate home with his protective and heavily armed parents (Edgerton and Ejogo), watches his world abruptly change with the arrival of a desperate couple (Abbott and Keough) and their young child. Panic and mistrust grow as the dangers of the outside world creep ever closer…but they may be nothing compared to the dangers within. (Gary Reber)
Special features include commentary with Writer/Director Trey Edward Shults and Actor Kevin Harrison Jr., the featurette Human Nature: Creating It Comes At Night (HD 29:37), trailers, upfront previews, and an UltraViolet digital copy.
The 2.39:1 1080p AVC picture, reviewed on a Sony Bravia Z9D 4K Ultra HD HDR display, upconverted to 2160p with greater resolution and luminance, was sourced from the Arri Alexa XT digital camera system. The picture quality is generally good with a natural appearance throughout. The color palette stresses warm hues within the desolate home, which has no electricity, at night relying on portable lamps for light. Set within the environs of a forest, earthy hues appear realistic, as does tree bark. Everything appears quite real. Night scenes are rather dark, yet shadow delineation is quite good. Contrast is also satisfying with deep blacks. Fleshtones are naturally rendered. Resolution is excellent, with fine detail exhibited in skin pores, wood textures, facial features, clothing, and object textures. Overall, this is a nicely executed picture that appears natural throughout. (Gary Reber)
The DTS-HD Master Audio™ 5.1-channel soundtrack has its moments of excitement and suspense, which is supported by surround energy and extended bass response in the .1 LFE channel. The sound effects are quite eerie and effective in creating suspense. Rifle fire sounds perfectly real. Otherwise, the soundtrack is dialogue focused. The music score is subtle but nicely creates the mood. Dialogue is intelligible except for when spoken through gas masks, which slightly muffles the sound. Nuanced Foley sound effects nicely authenticate the proceedings. This is a soundtrack that builds in intensity, with strong atmospherics and sound effects enhanced with effective deep bass. (Gary Reber)