BLU-RAY REVIEW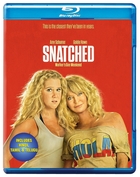 Snatched
Basic Information on new release titles is posted as soon as titles are announced. Once reviewed, additional data is added to the database.
(Studio/Distributor):
20th Century Fox Home Entertainment
(Catalog Number):
2331405
(MPAA Rating):
R
(Rating Reason):
Crude sexual content, brief nudity, and language throughout.
(Retail Price):
$$34.99
(Disc Type):
Single Side, Dual Layer (BD-50)
(Widescreen Edition):
Yes
(Full Screen Edition):
(Running Time In Minutes):
91
(Color Type):
Color
(Chaptered/Scene Access):
Yes
(Closed Captioned):
Yes
(Regional Coding):
A
(Theatrical Year):
(Theatrical Release):
Yes
(Direct-To-Video Release):
(Disc Release Date):
8/8/2017
(THX® Digitally Mastered):
(Director):
Jonathan Levine
(Screenplay/Written By):
(Story):
(Music):
(Director Of Photography):
(Production Designer):
(Visual Effects):
(Costume Designer):
(Editor):
(Supervising Sound Editors):
(Re-Recording Mixers):
(Executive Producers):
(Co-Producers):
(Producers):
(Academy Awards):
(Principal Photography):
(Theatrical Aspect Ratio):
(Measured Disc Aspect Ratio):
(Disc Soundtrack):
DTS HD Lossless 7.1
(Theatrical Sound):
(Theatrical Re-Issue Soundtrack):
(DTS Bit Rate):
(Dolby Digital Bit Rate):
(Additional Languages):
(Subtitles):
In Snatched, when her boyfriend dumps her on the eve of their exotic vacation, impetuous dreamer, Emily Middleton (Schumer) persuades her ultra-cautious mother, Linda (Hawn) to travel with her to paradise. When the trip takes an unexpected turn, the polar opposite mother/daughter realize they must settle their differences and work together to escape the outrageous jungle adventure they've fallen into. (Gary Reber)
Special features include commentary with Director Jonathan Levine, 11 deleted scenes (HD 12:43), six extended and alternate scenes (HD 14:08), a gag reel (HD 02:43), trailers, upfront previews, and an UltraViolet digital copy.
The 2.40:1 1080p AVC picture, reviewed on a VIZIO P6 4K Ultra HD HDR display, unconverted to 2160p with greater resolution and luminance, was digitally sourced. While supposedly an exotic setting, the color palette and overall appearance of the imagery is rather drab. The picture exhibits a slight yellow tint, though, the greens in the jungle scenes appear generally natural. Fleshtones also appear generally natural. Resolution is often soft but detailed overall. Dark scenes are less revealing of detail. Contrast is good, with deep blacks and generally revealing shadow delineation. Overall, while not a reference presentation, the picture is pleasing. (Gary Reber)
The DTS-HD Master Audio™ 7.1-channel soundtrack, while dialogue focused, has its moments of extended ambient environmental sounds in the jungle scenes. Ecuadorian ambiance, such as ocean sounds, extends to the surrounds, as well as other ambiance sounds and sound effects. Dialogue is presented intelligiblely with generally good spatial integration. Overall, this is an effective soundtrack that is engaging. (Gary Reber)