BLU-RAY REVIEW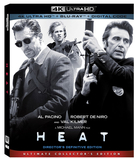 Heat: Director's Definitive Edition 4K Ultra HD
Basic Information on new release titles is posted as soon as titles are announced. Once reviewed, additional data is added to the database.
(Studio/Distributor):
20th Century Fox Home Entertainment
(Catalog Number):
2327132
(MPAA Rating):
R
(Rating Reason):
Violence and language.
(Retail Price):
$$16.99
(Disc Type):
Single Side, Dual Layer (BD-50)
(Widescreen Edition):
Yes
(Full Screen Edition):
(Running Time In Minutes):
170
(Color Type):
Color
(Chaptered/Scene Access):
Yes
(Closed Captioned):
Yes
(Regional Coding):
A
(Theatrical Year):
(Theatrical Release):
Yes
(Direct-To-Video Release):
(Disc Release Date):
5/9/2017
(THX® Digitally Mastered):
(Director):
Michael Mann
(Screenplay/Written By):
(Story):
(Music):
(Director Of Photography):
(Production Designer):
(Visual Effects):
(Costume Designer):
(Editor):
(Supervising Sound Editors):
(Re-Recording Mixers):
(Executive Producers):
(Co-Producers):
(Producers):
(Academy Awards):
(Principal Photography):
(Theatrical Aspect Ratio):
(Measured Disc Aspect Ratio):
(Disc Soundtrack):
DTS HD Lossless 5.1
(Theatrical Sound):
(Theatrical Re-Issue Soundtrack):
(DTS Bit Rate):
(Dolby Digital Bit Rate):
(Additional Languages):
(French Language):
(Spanish Language):
(Subtitles):
(German Language):
Heat is a crime thriller that takes place in a dazzling, twilight vision of Los Angeles. In the wake of a heist of an armored van, the crew of a fierce, professional thief (De Niro) and an obsessively driven LAPD detective (Pacino) are locked in deadly opposition as they vector toward each other. A true classic. (Gary Reber)
Special features include Academy filmmaker panels (HD 01:03:23), the 2015 Toronto International Film Festival (HD 30:27), a making-of featurette (HD 59:12), Pacino And De Niro: The Conversation (HD 09:58), the featurette Return To The Scene Of The Crime (HD 12:05), 11 additional footage deleted scenes (SD 09:44), theatrical trailers, and a digital copy.
The 2.40:1 1080p AVC picture, reviewed on a VIZIO Performance Series P65 4K Ultra HD HDR display, upconverted to 2160p, is terrific with an immensely satisfying cinematic appearance of epic scale. Shot on film in Panavision®, the imagery is absolutely captivating. The color palette is rich and warm with natural hues throughout. At times, colors really pop with stunning reds and other primaries. Fleshtones are perfectly natural throughout. Contrast is well balanced with deep, solid blacks and generally revealing shadow delineation. At times the picture is extremely dark and requires a display device capable of superb contrast and a dark viewing environment. When dark, lighting provides effective highlights, for a stylized look. Production design is excellent with realism throughout. Bright scenes are realistic and dynamic. Resolution is excellent, especially during close-ups of facial features, hair, clothing, and object textures. This is an impressive visual experience that impresses throughout. This is definitely a classic film with superb cinematography that is visually captivating throughout. (Gary Reber)
The DTS-HD Master Audio™ 5.1-channel soundtrack is quite dynamic, with effective atmospherics that enhance the realism. Sound effects are often powerful, with intense sub-25 Hz bass extension extended by the .1 LFE channel, such as in cars, helicopters, explosions, machine-gun fire, and jet planes. Surround envelopment is generally subtle but at times energized. The music score extends wide and deep with subtle surround immersion. Foley also is excellent and perfectly nuanced as appropriate. Dialogue is consistently intelligible, with excellent spatial integration, never unnaturally forward. While dated, the film exhibits virtually no film grain and exhibits a smooth, dynamic picture quality. The imagery is often reference quality. This is a wonderful cinematic film experience that is memorable. (Gary Reber)