BLU-RAY REVIEW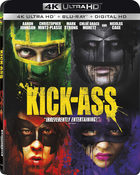 Kick-Ass 4K Ultra HD
Basic Information on new release titles is posted as soon as titles are announced. Once reviewed, additional data is added to the database.
(Studio/Distributor):
Lionsgate Home Entertainment
(Catalog Number):
52060
(MPAA Rating):
R
(Rating Reason):
Strong brutal violence throughout, pervasive language, sexual content, nudity and some drug use – some involving children.
(Retail Price):
$$22.99
(Disc Type):
Single Side, Dual Layer (BD-66)
(Widescreen Edition):
Yes
(Full Screen Edition):
(Running Time In Minutes):
117
(Color Type):
Color
(Chaptered/Scene Access):
Yes
(Closed Captioned):
Yes
(Regional Coding):
A
(Theatrical Year):
(Theatrical Release):
Yes
(Direct-To-Video Release):
(Disc Release Date):
10/3/2017
(THX® Digitally Mastered):
(Director):
Matthew Vaughn
(Screenplay/Written By):
(Story):
(Music):
(Director Of Photography):
(Production Designer):
(Visual Effects):
(Costume Designer):
(Editor):
(Supervising Sound Editors):
(Re-Recording Mixers):
(Executive Producers):
(Co-Producers):
(Producers):
(Academy Awards):
(Principal Photography):
(Theatrical Aspect Ratio):
(Measured Disc Aspect Ratio):
(Disc Soundtrack):
Dolby Atmos, Dolby TrueHD 7.1
(Theatrical Sound):
(Theatrical Re-Issue Soundtrack):
(DTS Bit Rate):
(Dolby Digital Bit Rate):
(Additional Languages):
(French Language):
(Subtitles):
Based on the comic book written by Mark Millar and John Romita, Jr., Kick-Ass is the story of Dave Lizewski (Johnson), an ordinary teenager who goes unnoticed in high school until he takes a chance to "do something" and dons a mask and becomes "Kick-Ass" to fight real-life crime. Bruised and beaten and without any real super powers, he is saved by a father-daughter duo (Cage as "Big Daddy" and Moretz as "Hit-Girl") who know all the right moves and have a vendetta against a vicious crime-lord, D'Amico (Strong). After a fiery Internet storm of publicity for Kick-Ass, D'Amico wants to meet the masked man, and his son (Mintz-Plasse) dons a costume of his own and becomes "Red Mist" to befriend him and get in his father's good graces. The story comes to a head when D'Amico succeeds in luring the crime-fighters to his home and ass-kicking destruction ensues. (Gary Reber)
Special features include commentary with Writer/Director Matthew Vaughn, A New Kind Of Superhero four-part documentary (HD 20:35), the featurette It's On! The Comic Book Origin Of Kick-Ass (HD 20:35), marketing archives, an Ass-Kicking Bonus View Mode (Blu-ray Disc exclusive), the Redband Hit Girl trailer, the theatrical trailer, a gallery, upfront previews, and an UltraViolet digital copy.
The 2.40:1 2160p HEVC/H.265 4K Ultra HD HDR-10 picture was filmed in Panavision® using the Panavision Panaflex Millennium XL camera system and a master format Digital Intermediate at 2K (not 4K). As the 2K Digital Intermediate has been unconverted to 2160p, there is no real gain in native resolution. Still, the image quality is incredibly terrific. While photographed on 35mm Kodak Vision2 film stock, grain is not an issue, as it is virtually invisible. The color palette greatly benefits from the HDR treatment with wonderful, stunningly vivid and bright hues with a veneer of richness and resolution. Primaries are solid, especially with regard to reds. Fleshtones remain perfectly hued and healthy with impressive naturalness. Contrast is excellent throughout with HDR highlights that really light up the screen, and the comic book renderings are dramatic and visually engaging. Resolution is impressive with fine detail exhibited in facial features, skin pores, clothing, and object texture. The picture is visually stunning throughout and captivating as a visual experience. This is a reference-quality picture experience with effective spatial dimensionality—the new reference. (Gary Reber)
The Dolby Atmos/Dolby TrueHD 7.1-channel soundtrack, as with the previous Blu-ray Disc DTS-HD Master Audio™ 7.1-channel soundtrack, is nicely produced with seemingly improved ADR dialogue, for better spatial integration. The dialogue is still often forward sounding, and Hit-Girl at times is unintelligible. The music score is well recorded with a wide soundstage and a solid low-frequency foundation, and a solid surround presence. Sound effects are often aggressively dynamic and dimensional, and surround is enveloping. Deep bass often extends to sub-25 Hz in the .1 LFE channel. The additional channels provide a larger holosonic® presence when the music score is engaged and at times during action sequences. The soundfield, at times, sounds impressively huge and expansive.

The Immersive Sound element is rather weak, as it is fundamentally limited to a low-level extension of the music score and the occasional low-level sound effect. Unfortunately, the effect is too subtle to impress and expected sound effects enhancement is deprived. The exception is an intense fire scene in which height extension is effective. Otherwise, this is an exciting ear-level soundtrack that, at times, sounds dynamic, with effective low-level atmospheric sound effects that enhance the holosonic envelopment. (Gary Reber)