BLU-RAY REVIEW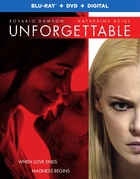 Unforgettable
Basic Information on new release titles is posted as soon as titles are announced. Once reviewed, additional data is added to the database.
(Studio/Distributor):
Warner Home Video
(Catalog Number):
3000074194
(MPAA Rating):
R
(Rating Reason):
Sexual content, violence, some language and brief partial nudity.
(Retail Price):
$$29.98
(Disc Type):
Single Side, Dual Layer (BD-50)
(Widescreen Edition):
Yes
(Full Screen Edition):
(Running Time In Minutes):
100
(Color Type):
Color
(Chaptered/Scene Access):
Yes
(Closed Captioned):
Yes
(Regional Coding):
A
(Theatrical Year):
(Theatrical Release):
Yes
(Direct-To-Video Release):
(Disc Release Date):
7/25/2017
(THX® Digitally Mastered):
(Director):
Denise Di Novi
(Screenplay/Written By):
(Story):
(Music):
(Director Of Photography):
(Production Designer):
(Visual Effects):
(Costume Designer):
(Editor):
(Supervising Sound Editors):
(Re-Recording Mixers):
(Executive Producers):
(Co-Producers):
(Producers):
(Academy Awards):
(Principal Photography):
(Theatrical Aspect Ratio):
(Measured Disc Aspect Ratio):
(Disc Soundtrack):
DTS HD Lossless 5.1
(Theatrical Sound):
(Theatrical Re-Issue Soundtrack):
(DTS Bit Rate):
(Dolby Digital Bit Rate):
(Additional Languages):
(French Language):
(Spanish Language):
(Subtitles):
In Unforgettable, Tessa Connover (Heigl) is barely coping with the end of her marriage when her ex-husband, David (Stults), becomes happily engaged to Julia Banks (Dawson)—not only bringing Julia into the home they once shared but also into the life of their daughter, Lily (Kai Rice). Trying to settle into her new life, Julia believes she has finally met the man of her dreams, the man who can help her put her own troubled past behind her. But Tessa's jealousy soon takes a pathological turn until she will stop at nothing to turn Julia's dream into her ultimate nightmare. (Gary Reber)
Special features include commentary with Director Denise Di Novi, the featurette Reclaiming What's Yours (HD 10:09), deleted scenes with commentary (HD 02:06), upfront previews, and an UltraViolet digital copy.
The 1.78:1 1080p AVC picture, reviewed on a Sony Bravia Z9D 4K Ultra HD HDR display, upconverted to 2160p with greater resolution and luminance, was photographed digitally. The picture exhibits an incredible color palette with rich and warm hues throughout. Primaries are strong and often colors punch. The production design is nicely enhanced with a range of colorful objects in interiors. Fleshtones are perfectly hued with a natural luster. Contrast is superb, with deep blacks and revealing shadow delineation in the darker scenes, highlighted with color accents. Sharpness and clarity is also superb with fine detail exhibited throughout. Cityscapes of Los Angeles look realistic, especially in the wealthy environments that the story takes place in. The cinematography is wonderful with a dimensional quality, always engaging the viewer. This is a beautiful picture with excellent color rendering and detail, with reference-quality segments. (Gary Reber)
The DTS-HD Master Audio™ 5.1-channel soundtrack, while dialogue focused, features a crafty thriller score, which effectively provides background support, energized during intense segments with strong extension to the surrounds. Atmospherics are realistic and provide subtle surround. Sound effects are directionalized and intensified when suited. Deep bass at times builds in the music, often sans .1 LFE extension,, which is reserved for more intense segments. Dialogue is always intelligible with good spatial integration. This is an effectively crafted soundtrack with a broad dynamic character. (Gary Reber)