BLU-RAY REVIEW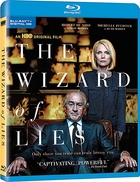 Wizard?Of Lies, The
Basic Information on new release titles is posted as soon as titles are announced. Once reviewed, additional data is added to the database.
(Studio/Distributor):
HBO Home Video
(Catalog Number):
3000075304
(MPAA Rating):
TV-MA
(Rating Reason):
(Retail Price):
$$24.98
(Disc Type):
Single Side, Dual Layer (BD-50)
(Widescreen Edition):
Yes
(Full Screen Edition):
(Running Time In Minutes):
133
(Color Type):
Color With B/W Sequences
(Chaptered/Scene Access):
Yes
(Closed Captioned):
Yes
(Regional Coding):
A
(Theatrical Year):
(Theatrical Release):
No
(Direct-To-Video Release):
(Disc Release Date):
10/3/2017
(THX® Digitally Mastered):
(Director):
Barry Levinson
(Screenplay/Written By):
(Story):
(Music):
(Director Of Photography):
(Production Designer):
(Visual Effects):
(Costume Designer):
(Editor):
(Supervising Sound Editors):
(Re-Recording Mixers):
(Executive Producers):
(Co-Producers):
(Producers):
(Academy Awards):
(Principal Photography):
(Theatrical Aspect Ratio):
(Measured Disc Aspect Ratio):
(Disc Soundtrack):
DTS HD Lossless 5.1
(Theatrical Sound):
(Theatrical Re-Issue Soundtrack):
(DTS Bit Rate):
(Dolby Digital Bit Rate):
(Additional Languages):
(Subtitles):
Based on the book by Diana B. Henriques, The Wizard Of Lies dissects the events that led to Bernie Madoff's (De Niro), the Wall Street financier, stunning downfall in December 2008 for defrauding investors of over $65 billion in the most infamous Ponzi scheme in U.S. history. The drama vividly recounts Madoff's audacious deceptions that culminated in his vilification while catapulting his wife Ruth (Pfeiffer) and two sons into a harsh and unrelenting spotlight, with tragic consequences. (Gary Reber)
Special features include include cast interviews (HD 07:31) and an UltraViolet digital copy.
The 1.78:1 1080p AVC picture, reviewed on a Sony Bravia Z9D 4K Ultra HD HDR display, upconverted to 2160p with greater resolution and luminance, was photographed digitally with the Arri Alexa camera system. The color palette is naturally hued but with a subdued veneer. Fleshtones are naturally rendered throughout. Contrast is well balanced during most scenes, but less so in the flashbacks. A black-and-white segment is quite powerful. Resolution is revealing of fine detail generally throughout, though, at times the imagery is a bit soft. Overall, the imagery is a bit inconsistent but satisfying. (Gary Reber)
The DTS-HD Master Audio™ 5.1-channel soundtrack is dialogue focused, but surrounds are active, at times, re-creating subtle ambience and the music score. As well, deep bass is infrequent in the .1 LFE channel, though, otherwise the soundtrack is anchored in natural bass. One segment of gunfire ignites the .1 LFE with powerful deep bass. In another segment a jazz combo drummer ignites a strong bass response. Dialogue is consistently intelligible with decent spatial integration. Fidelity is excellent throughout. In essence, this is a basic soundtrack experience that satisfies the telling of the story. (Gary Reber)